Pew has a nice graph showing the growing gap between total state pension liabilities and total assets set aside to cover the states' pension liabilities. The graph is the total for all states. Not a very pretty picture.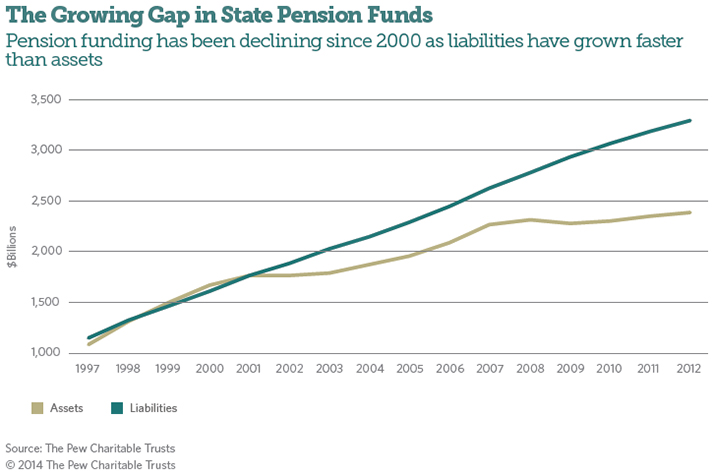 Before you go contacting your state legislature, you might want to see where your state falls. In 2012, only Wisconsin's pension plan was fully funded but its funding level is down from 108% in 2010 to 100% in 2012. Not a good trend but still Wisconsin's pension is in good shape according to Pew's chart. A 100% level means Wisconsin can pay for its current commitments with the funds already set aside.
Pew has a list of all the states' funding levels (PDF). NC is tied for second best funding level with Washington State at 95%. So contrary to what some groups say, NC's pension plan is not in trouble. On the other hand, it would be nice if it was fully funded.
I suppose it is no surprise that Illinois is last at a 40% funding level. That is a 60% shortfall. Kentucky and Connecticut are both below 50%. Ohio is number 25 on the list at 67% funded. So half the states are more poorly funded than Ohio. These states are facing some difficult choices – raise taxes, cut benefits, increase employee contributions, cut something else and redirect it to the pension plan or a combination.